<!drake circumnavigations golden hind hinde el nino sail sailing navigation latitudes northwest climate 1579 sixteenth drake spain mexico DNG cannons hakluyt elizabeth elizabethans books bookshop el nino llamas indians drake history>

Sir Francis Drake
These pages are focused on Sir Francis Drake, and in particular on his "Famous Voyage" - the circumnavigation of the world in the sixteenth century, during the reign of Queen Elizabeth.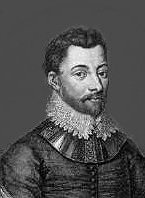 The Famous Voyage was a mystery before it began; only a handful of the men who set out from England on the Golden Hind in 1577 had any idea of the journey's original destination, and perhaps not even Francis Drake had an inkling of how long a path they would eventually follow. The mystery continued after the voyage ended; secrecy fostered confusion and, as will be seen on these pages, the confusion persists to this day.
---
Author's Note: Some of this material is adapted from or relates to my yet-unpublished book Francis Drake in Nova Albion - The Mystery Restored, in which these and neighboring thickets are explored much more deeply than on these few web pages. Thus there may be references here not fully explained, or answers missing their questions. Also lacking here is documentation, provided in the book by 782 endnotes. - Oliver Seeler
Nova Albion Research
Copyright 1995 - 2001 by Oliver Seeler
Please feel free to send your comments to oseeler@mcn.org
---
For something a bit different, visit our acclaimed new web site
The Universe of Bagpipes
~ over 30 kinds of bagpipes from many lands ~
~ sound clips & hundreds of photos ~
~ a new CD, Bagpipes of the World ~
~ a Yahoo! Weekly Pick ~
www.hotpipes.com

---
While this site has been on-line here for over five years, the below counter was installed on
September 22, 1997; since then, there have been
[counter: 'Sir FrancisDrake']
visits to this page.


---